(Single) PURYT R1 Rechargeable Hearing Aids for Seniors, Background Noise Canceling and Nearly Invisible In the Ear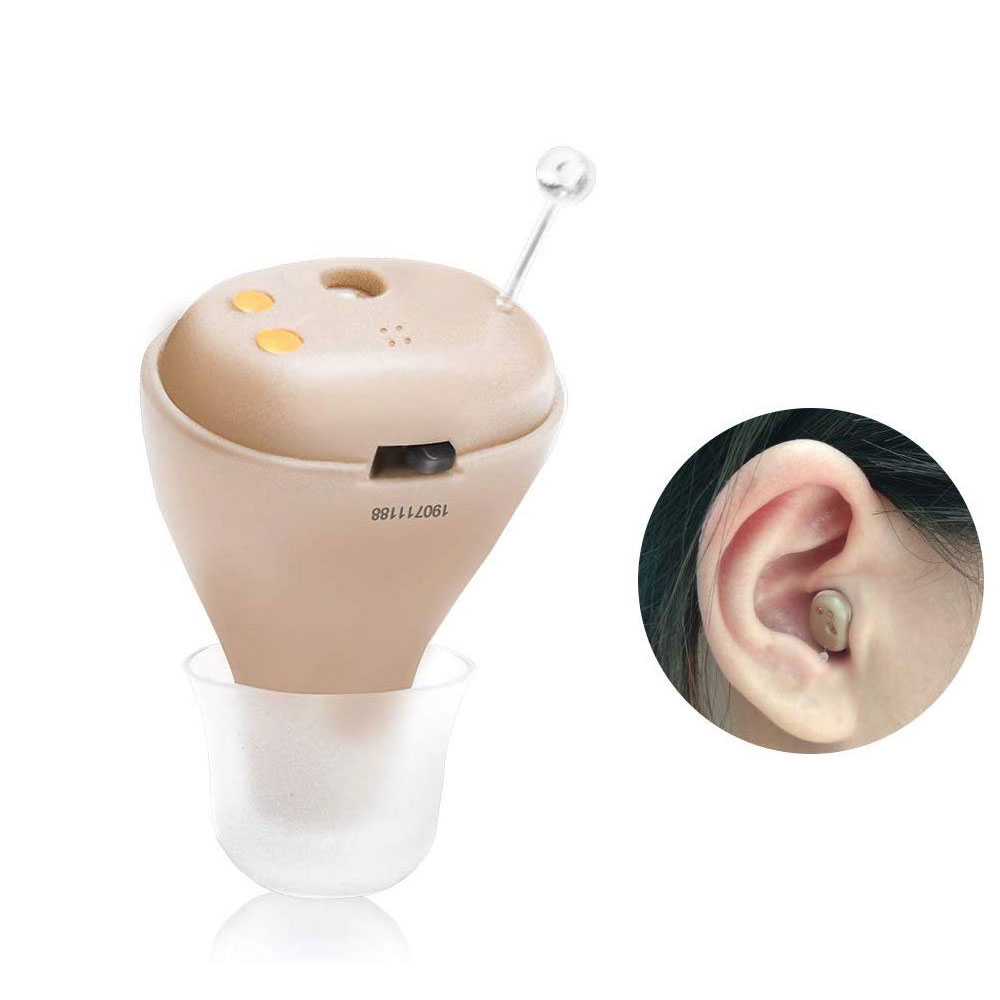 Click image to zoom
Buyer Protection

45-Day Risk-Free Trial.
1-Year Warranty.
Free Lifetime Support.
Full refund for defective items. Learn more.

Fast On-time Delivery

Delivery Time: 2-5 business days by express shipping. Learn more.

Outstanding Support

7 x 24 customer service via E-mail.
Fast customer service response in 12 hours.

Accept Payment Method
Specifications
Product ID

PUT1002

Fitting range

≤ 80dB

Battery type

Rechargeable (A13 / 7.9 x 5.4mm)

Wearing type

In-ear

Max output

108 +/- 3 dB

Input noise

< 28dB

Charging time

5 - 6 hours

Working time

Up to 24 hours

Size

0.8 x 0.4 x 0.6 inches

Weight

About 0.2 ounces
Small Size Design, Lightweight, Comfortable Fit and Never Fall Out. Design in very small size ( 0.8 x 0.4 x 0.6 inches ), completely in the ear, with silicone ear dome, it stays in your ear and never fall out when your are talking, walking, jogging or other exercise. Nearly invisible and extremely discreet(fits even if you have glasses). Only about 0.2 ounces ultralight weight body, you don't even feel it, fits both right and left ear, very comfortable to wear.
Feedback Minimized and Noise Reduction. Professional device body design, new generation chip on the market, advanced audiology mini-microprocessor technology and perfect ear dome fits effectively reduce the feedback and background noise.
Long Working Time and Rechargeable. Up to 24 hours battery life, it can maintain 3-4 days of daily use. Come with a portable USB charging box, takes 5-6 hours for a fully charge. One night charge, three days use, no more buying and replacing batteries!
Volume Control, Power Switch On/Off, Very Easy to Use. Modify the volume easily with the tools inside the packing box and pitch for optimal hearing, enjoy clearer conversations immediately. Power button on the body, easy to turn on or off. If want to take it off, just pull the pulling line. Very easy to use.
Certification and Guaranteed. FDA, CE, FCC multiple certifications, certified by medical institutions around the world. 45 days hassle free returns, 365 days renewal for quality issues, 1 years manufacturer warranty and unlimited customer service, no-risk to purchases.
118 customer ratings
5 star

81%

4 star

9%

3 star

2%

2 star

3%

1 star

5%
Review this product
Share your thoughts with other customers
All stars
All stars
5 star only
4 star only
3 star only
2 star only
1 star only
By

Ba***m

From

United States

Reviewed on January 18, 2020

Color: Beige

I bought it for my MIL and it works great for her. I like that it is minimally visible on outside which makes it wearable for her in parties and equally comfortable at home.

7 people found this helpful
By

Je***e

From

United States

Reviewed on September 23, 2019

Color: Beige

Good Mini Sound Amplifier. For those that wish to amplify sound a bit, such as to increase your ability to hear during special circumstances, this is a good starter. However, if you are looking to use it for therapeutic means, you should look elsewhere. Although this would be useful for some circumstances, I would recommend a greater investment for therapeutic means. Before using, first turn to the lowest volume, from the beginning to high-pitch, use the adjusting stick to adjust until you feel comfortable.
The sound amplification is okay, and it does have some noise cancellation properties as long as you fit the right silicone attachment for your ear. Volume control is a bit difficult, but not impossible to do. You may feel uncomfortable when you first use it. Please don't stop using it, because you will feel comfortable slowly in the next time. It has the advantages of miniature, long battery life, durability. So you will like it.

6 people found this helpful
By

Je***a

From

United States

Reviewed on January 3, 2020

Color: Black

Got it for my uncle. This one is cheaper than the other brand i got for my grandma. But it works the same. And smaller and more convenient than the other brand because its small and easy set up.

3 people found this helpful
By

Ch***s

From

United States

Reviewed on January 30, 2020

Color: Beige

For the price, it does a good job. It works as well as another type of HA I had but this one is less expensive and this one fits inside the ear. I wear glasses and the over-the-ear type just didn't fit right when wearing the glasses. The other type is annoying if it's windy/breezy outside. This one doesn't pick that noise up as much. I do have a hard time getting the volume set right. But, overall, I would say it is worth the money.

3 people found this helpful
By

Ma***r

From

United States

Reviewed on December 11, 2019

Color: Blue

My dad has had hearing problem for a while now, I had him try this device and he can hear a lot better now. It fit nicely in his ear and now I don't have to raise my voice so he can hear me. I will buy another one for his other ear!

3 people found this helpful