All Customer Reviews: (Single) PURYT R1 Rechargeable Hearing Aids for Seniors, Background Noise Canceling and Nearly Invisible In the Ear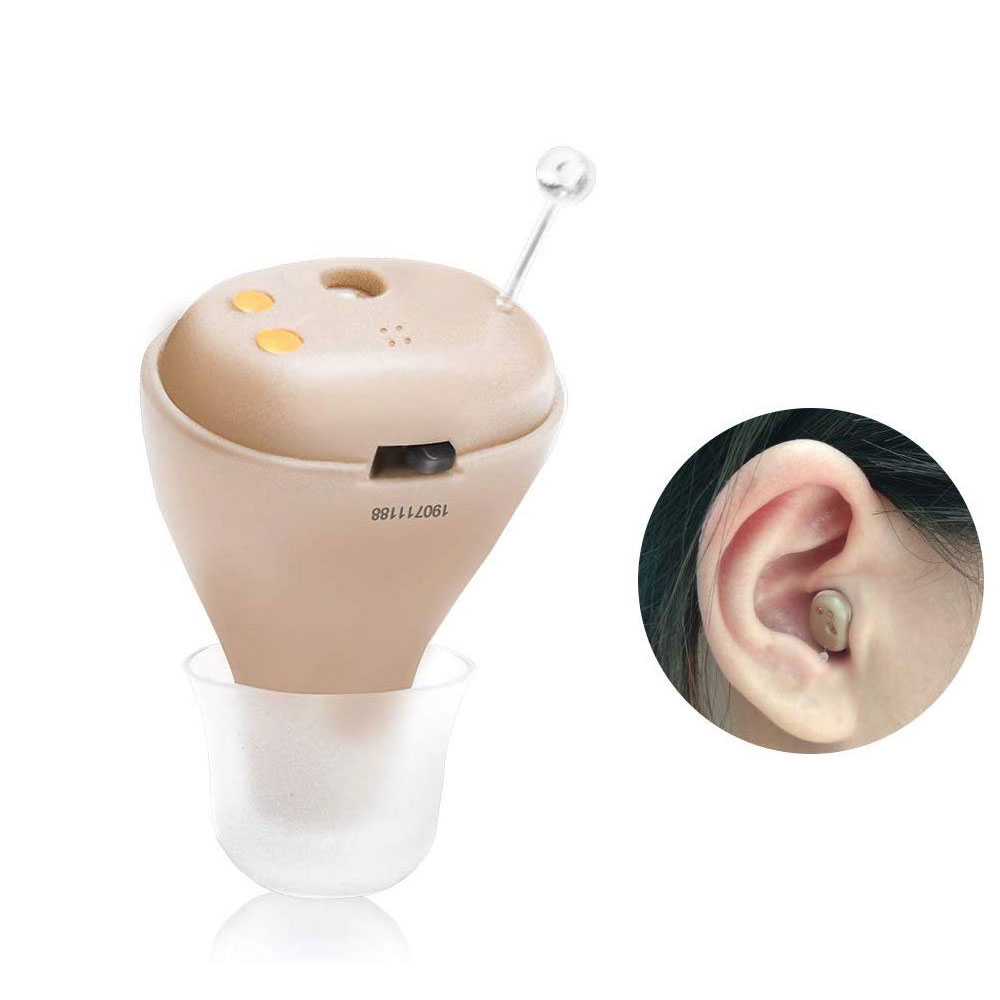 4.6 out of 5 stars, based on 118 review(s)
By

Ma***e

From

United States

on Apr 26, 2020 22:18

Color: Black

I thought I would try these because I have a hard time hearing the TV unless it is really loud. I can't afford hearing aids and don';t want them. These help me enough to keep the volume on the TV at a normal level for everyone else. The price was decent also. I'm happy I tried these.
By

Re***a

From

United States

on Apr 23, 2020 22:11

Color: Black

I like that this hearing aid comes with a case. It's small and won't be easily seen. It comes with 6 different sized earpieces just like my bluetooth, so it's easy to get a good fit with your ear. The only thing I don't like is having to remove it from the ear to adjust the volume.
By

Am***r

From

United States

on Apr 23, 2020 22:10

Color: Beige

As my hearing isn't too bad, and only causes problems with some tv programmes, I have been reluctant to get a hearing aid simply because no-one I know has had much success with them, and they end up in a drawer, even expensive ones.

Based on reviews and price, not too cheap, but cheap enough to risk, I purchased this little thing. As long as you select the correct size ear bud, and volume (if you hear an echo its too high,similarly the earbud you selected is too small).
By

El***h

From

United States

on Apr 21, 2020 22:09

Color: Beige

I was amazed at the quality, and I can now hear those muffled tv programmes clearly. I wear glasses and they fit unpeded and comfortably. Can recomend highly.
By

Me***e

From

United States

on Apr 20, 2020 20:52

Color: Beige

I really like this item. It is comfortable and easy to get use to. Matter of fact I ordered one for each ear and I already ordered another one.
By

De***r

From

United States

on Apr 16, 2020 20:50

Color: Beige

It's a workable in-canal hearing-aid-like device. It's constructed on par with the custom molded hearing aids I've worn in the past. It's got an immense amount of gain available, way more than I need. If you've ever owned a similar hearing aid or amplifier, it's setup is simple enough and familiar. It's stupid cheap compared to the fraudulent monopoly prices of "approved" hearing instruments.
By

Sa***o

From

United States

on Apr 15, 2020 20:47

Color: Red

So I'm 48 and have hearing loss I have Otosclerosis in my left ear and some hearing loss in my right..but not too severe as the left.I paid over $2k for one hearing aid through my Dr. I wanted to purchase another back-up,but there's NO way I can afford that! I have been through many much cheaper option hearing aids and I have send them back because they were junk!! I am very very pleased to say that these were great. Of course they're not going to restore your hearing 100%, but it does it's job and it works! I am so very happy I took a chance and purchased it! I have curly hair so it covers my ears so you can't see it… And even if you have short hair, you really can't tell unless you're really up close. They're comfortable to use. And so very affordable. The only con that I see,is the volume control.You need to use an included screwdriver thingy to control the volume.I kind of wished it had a little dial or something to make it easier. But other than that I think it's great!
By

Pa***k

From

United States

on Apr 13, 2020 13:23

Color: Beige

Gave one to my 87 year old father in law and his 85 year old wife, stopped the yelling in the house. Worth every penny extremely pleased!
By

Ra***s

From

United States

on Apr 11, 2020 10:41

Color: Black

My father was struggling with hearing the tv, which he enjoys. I got this to try before we spend alot of money on a hearing aid that is very expensive. I thought it was good that there was different size ear fittings. He was amazed that it actually helps him to hear the tv. It is well worth the price that you pay for it. You never know until you try something I guess!
By

Bo***y

From

United States

on Apr 8, 2020 10:38

Color: Beige

If you can't hear put this little Herring deal device in your ear guarantee you're going to hear
By

Po***s

From

United States

on Apr 6, 2020 10:33

Color: Blue

Works well, my Mother loves it. Only wish that in the description they stated that it is a single hearing aid not a pair. I had to go through the reviews to find out that it wasn't a pair. Other than that I ordered another for her. Volume control is great. and it is discrete in your ear.
By

Sc***b

From

United States

on Apr 2, 2020 10:24

Color: Beige

Thanks you Packaged nicely. Arrived on time. Works as described
By

Da***l

From

United States

on Mar 31, 2020 10:30

Color: Beige

Better than a more expensive one that I bought a month ago. Smaller and easier to use for her. Adjusting volume is slightly more difficult but worth it to her.
By

Sa***y

From

United States

on Mar 26, 2020 10:29

Color: Black

Excellent sound amplifier. Right size and comfortable.
By

Ma***n

From

United States

on Mar 24, 2020 10:25

Color: Beige

This was given to me as a gift from my loving daughter who was tired of me saying what what what ?As an amplifier and not
( hearing aid ) it has very good Sound and very clear.
The only problem no matter what volume setting or different soft cushion sizes....
if I answer phone and place it to my hear I hear a dreadful whistling sound ! Anyone experiencing this problem ?
I Appreciate any feed back
Thank You in advance